Why Sendspark?
Codeup offers a 20-week program to help people without technology backgrounds launch new careers in tech. While Codeup provides a clear path forward, taking the first step into the world of technology can be intimidating for anyone. With Sendspark, Codeup is able to increase engagement, conversions, and emotional connection by sending personalized videos throughout the admissions process.
The videos not only make our emails more engaging, but also allow applicants to build personal relationships with our admissions staff
Since implementing Sendspark, they have been able to accelerate enrollment, and most importantly, form relationships with prospective students early on to make the transition into the world of technology a whole lot less intimidating.
Adding a human touch to automation
The admissions process starts when a prospective student submits an application to Codeup. After they apply, they are invited to interview with the admissions team.
In the past, an automated email would send to prospective students who submitted applications, confirming that their application was received, and providing a link to schedule the phone interview.
Senior Admissions Manager, Sarah Mellor, realized that this touchpoint could be made more effective with a video that introduced the prospective student to the Codeup Admissions team, congratulated them for taking the first steps towards their new career, and encouraged them to schedule their phone interview.
Sarah chose Sendspark because it allowed them to set up the video like a micro-funnel: They could customize the video thumbnail to make it stand out in the inbox, use the video to engage prospective students and share information, and then immediately nudge viewers to schedule their phone interview with a call-to-action.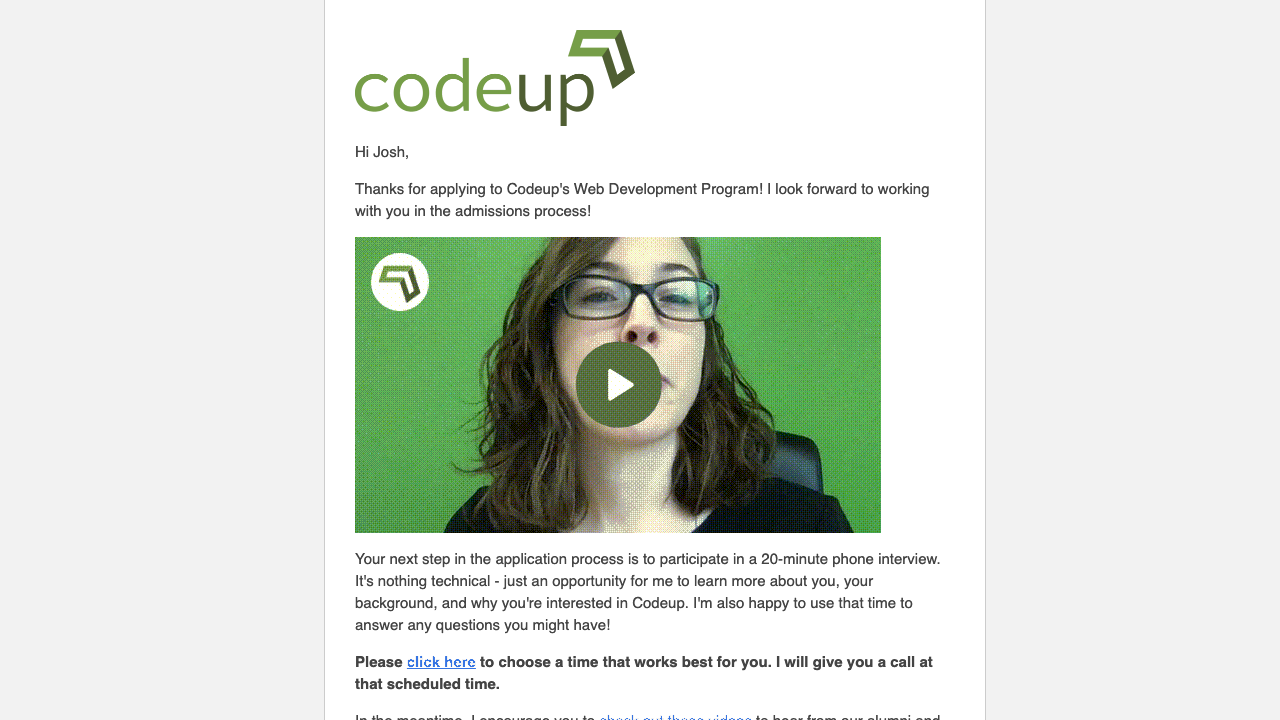 This video is built into their email automation (through Hubspot), and sends automatically when a prospective student submits their application. This email has a 90% open rate and 83.3% click-through-rate, which is a 12.6% increase in engagement from their previous text-based email. And most importantly, the Sendspark video email builds trust that lasts throughout the entire application process.
Boosting event attendance
Events are a big part of Codeup's community engagement strategy. They host myriads of technology events throughout the year to introduce community members to the possibility of a career in tech, such as...
Free Coding Workshops
Community Speakers
Tech Parties
Demo Days
Open Houses
Often, attending these events is intimidating for people who have no tech experience, and worry they won't belong. However, with a Sendspark video, the Codeup team can show just how friendly and welcoming they are.
The results speak for themselves - the video below was sent to 50 cold leads, and led to 4 RSVPs: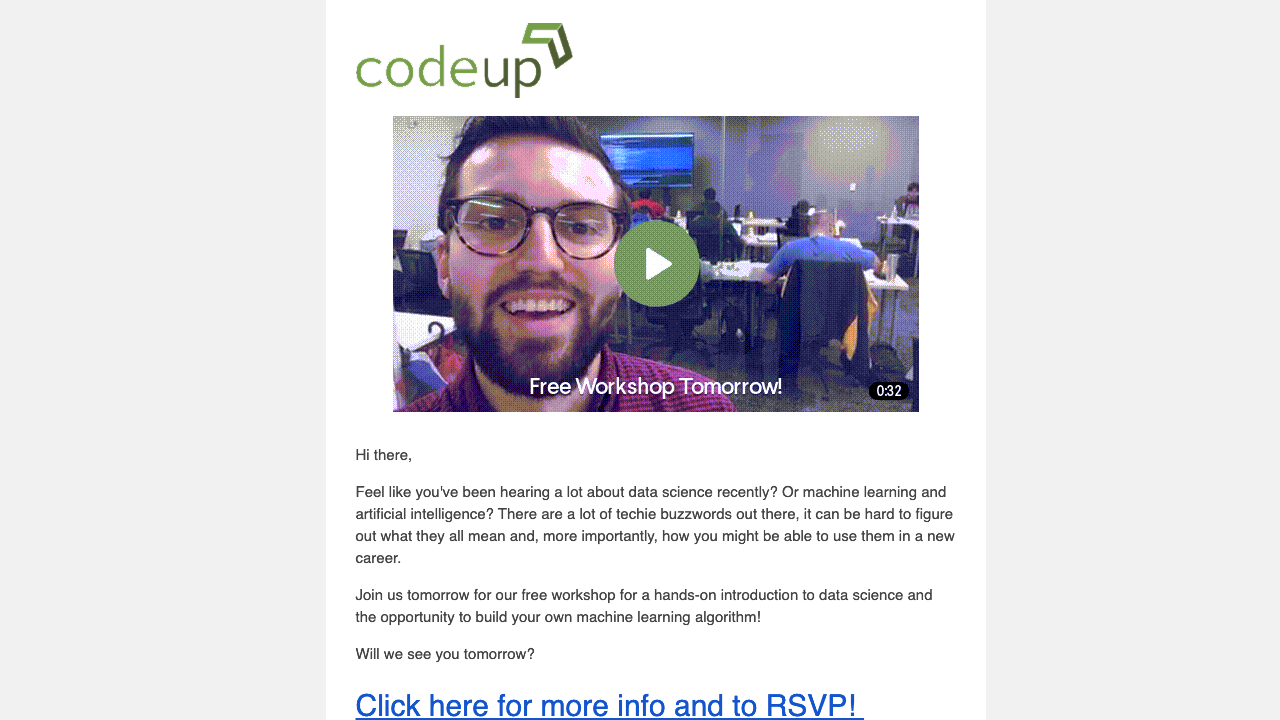 When Codeup launched a new campus in Dallas, they knew exactly how to get the community to show up… They emailed this video to their Dallas waitlist: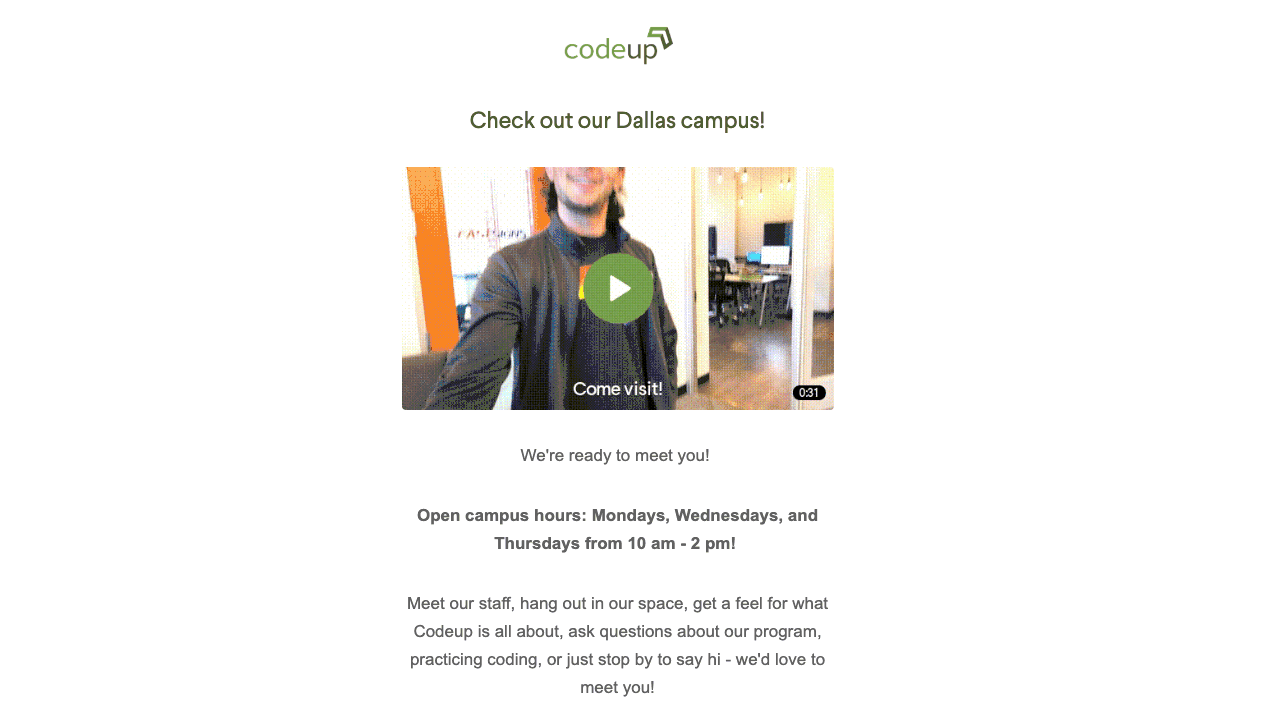 Leveraging the faces & voices of the alumni community
The impact Codeup can have on a person's life is more powerful coming from an alum than from the admissions team. Codeup leverages their former students to show their possible future, and what a career in tech actually looks like.
Sendspark Request Video makes the process of requesting video testimonials from alumni easy. They can send students a link, and have them record a video with 1 click. Videos automatically upload to the Sendspark account for the admissions team to use in email marketing, social media, or embed on their website.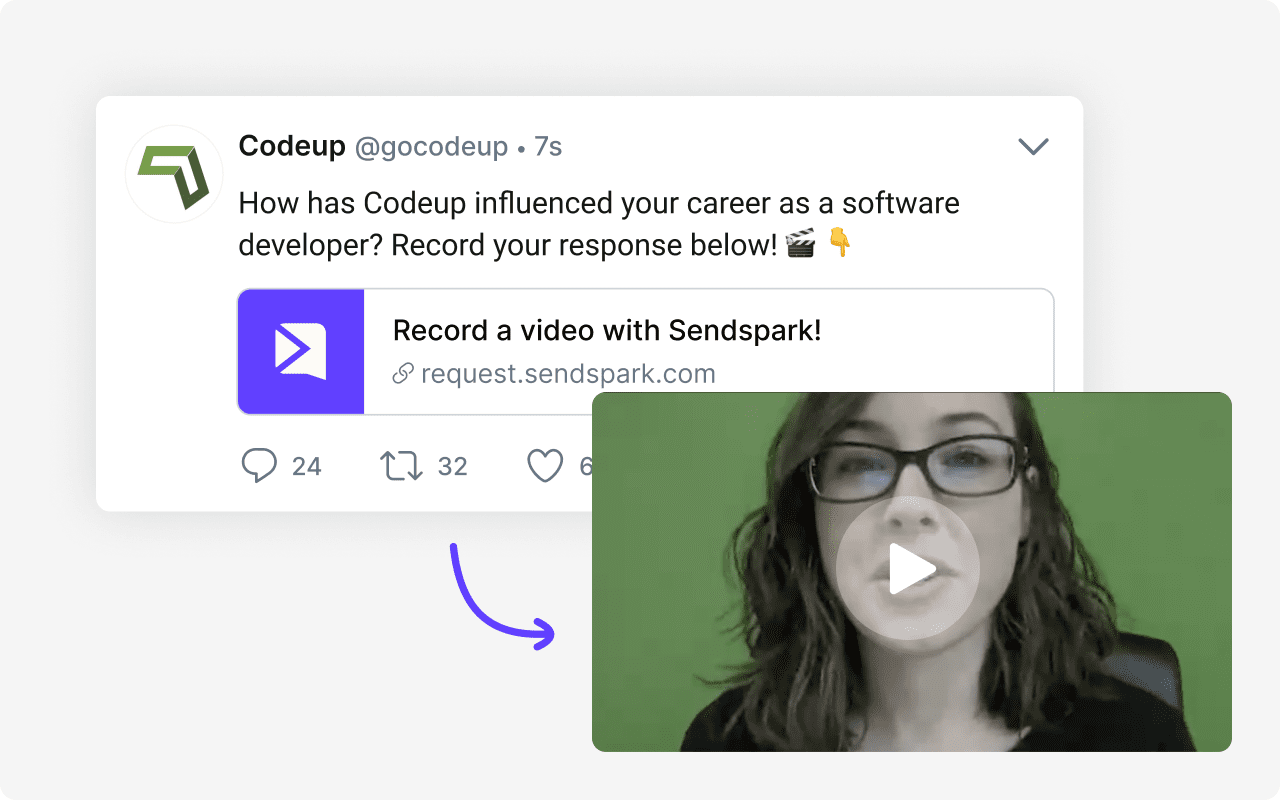 Successfully Implementing Sendspark
Codeup has found it to be ridiculously easy to create admissions videos with Sendspark. Their marketing team set brand guidelines within the Sendspark application, and then the admissions team is able to create videos in seconds to use for their email automation, event blasts, and social media posts.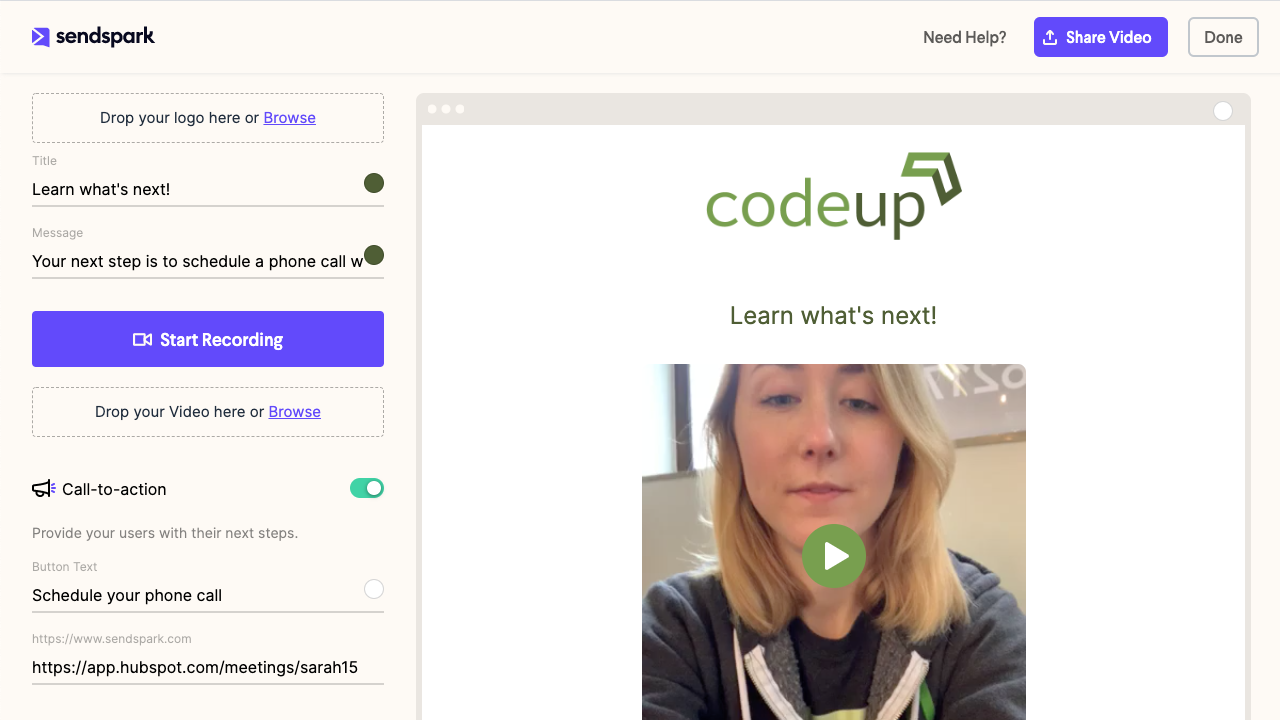 Results Recap
After implementing Sendspark, Codeup saw…
A 90% email open rate
An 83.3% email click-through-rate
A 12% increase in email engagement
A new level of trust and connection early on in the admissions process ❤️
Is Sendspark right for you?
If you're running admissions for any program or university there are countless ways that you can incorporate Sendspark to highlight the unique culture behind your program. Please schedule a meeting with our Admissions Strategist to learn how Sendspark can help you increase email engagement and conversions.